Positive, Authentic, Practical, High Energy, Inspiring!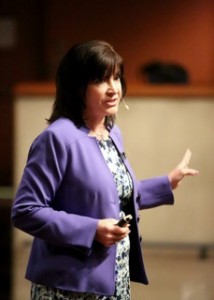 Audiences consistently report feeling positive, energized and ready to tackle what used to seem impossible after attending this best selling author's programs.  Even the most skeptical will come away amazed, uplifted and transformed.
Betsy shares practical solutions to real work/life challenges and empowers her audiences to take charge of choices, habits, personal responsibility and daily self-care.   Her intuition, connection with audience members and skill at customizing the message to the needs of each group will help your participants take action, treat each other with greater respect, generate creative solutions and build highly positive connections with customers, coworkers and everyone they meet.
Ms. Muller's real life work experiences – research chemist, oil company executive, medical practice manager, wife, mother, holistic coach, business owner, NSA professional speaker, author, TV guest and BEST SELLING AUTHOR –- deliver high energy and relevance for every participant.  This former Chamber of Commerce President, respected community leader and member of the board of the National Association of Women Business Owners – Cleveland, is a recognized specialist in bringing people together to increase trust, enhance communication, develop outstanding customer service and to promote consistently positive attitudes! If your audience needs a lift, look no further!
Audience Outcomes & Results To Expect:
Positive emotional shift
Techniques for independent use
Awareness of choices & personal responsibility
Comfort in the midst of change
Resilience for life's most difficult moments
Creative ideas
Strategies for fostering relationships
 High productivity
Peace of mind
Speaker Brochure – Your one-sheet summary into Betsy's style, topics and substance!
Keynote Topics – Betsy's messages are tailored to the needs of each audience. Always practical, well-organized and above all fast-acting strategies to helps them achieve the habits, action and outcomes needed to be highly productive at home and at work.
Raving Fans – Learn more about what satisfied clients have said about working with Betsy
BizTV Episodes: