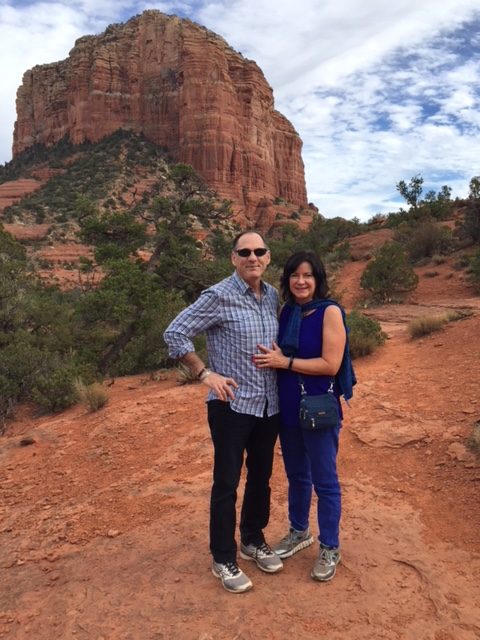 Today marks the 5-month anniversary since George's cardiac arrest and brain injury, as well as exactly 11 months since my foot/ankle surgery.   Both events have opened our eyes and our hearts to so much learning. We are fully into a new phase and pleased to report we are taking time to celebrate and honor our progress.
I write this as we sit at the airport waiting for our delayed flight to Phoenix, followed by a 2-hour drive to Sedona, AZ. Looks like it will be a long day. Our plan is to spend a few days being present, soaking up some sunshine, hiking the many scenic trails and celebrating the renewal of our marriage vows.
Progress continues for George. He rehabilitated so well at Lifeworks that they quickly ran out of things to challenge his cognitive skills. He was officially discharged from further therapy two weeks ago.   According to George, he was kept busy running back and forth on a field while shouting 2-syllable words containing specific letters of the alphabet as the second letter. I guess that was the best they could do to test what it's like to be a high school lacrosse coach. Seriously, could a normal 58-year-old brain succeed at that? On his final day of PT, George even got to coach his therapists in the finer skills of lacrosse on the outdoor field.   That must have been almost too easy.
We won't see the neurologist again until later this month, but expect there will be another significant reduction of medication and will push for approval to return to coaching. I think he's ready for driving again, but that's also up to the doctor. In the meantime, George walks everywhere, including all the way to Marc's and Chipotle. He is unstoppable, but also getting impatient about having more free time, yet all these limitations. He could really use some "guy-time" for a trip to the rec center or lunch, or some other activity to get him out of the house as the weather gets cooler. Phone calls are also appreciated. If you know a business needing graphic design services, he's also taking on new projects to stay busy. The quality of his work is right back where it used to be.
At last I can get my business going again and it feels wonderful. I was able to speak at the Holistic Health and Healing Expo and also took an overnight trip to Columbus to present at the Ohio Association of Occupational Health Nurses conference. My first six candidates for AAMET/Energy Makeover EFT Practitioner Certification Program will graduate on Nov. 18 and I've scheduled an afternoon retreat to honor these outstanding practitioners. The event is open to guests who are interested in deepening their practice of Emotional Freedom Techniques. I'll also teach a full day EFT Level 1 workshop (including 6 hrs. CE credit) on Dec. 2 and have a special rate for my friends. Message me if you would like the code. My presentation for the May 2018 ACEP conference on Energy Care for Serious Illness and Caregiver Stress was accepted and I'm reviewing contracts for new EFT Practitioner training locations and retreats for the year ahead. 2018 will also bring a new series of luncheon events, in addition to the regular breakfast series for women, so watch for those details as they emerge.
My foot and ankle are still numb and not fully operational. This may be something I live with. Mornings are especially slow with a cramped foot until I work it into a shoe and get the blood flowing. At least I can hike and modify my movements to get through most of what life throws at me, including low impact Jazzercise classes. I'm setting the intention that Sedona energy adds another element of healing to get my foot moving forward in a more comfortable way.
George and I are composing our vows for a sunset ceremony this Sunday overlooking Sedona's red rocks. George finished his several days ago and I'm still pondering how I can add more love to the original promises we made to each other in 1984. We are renewed individually and both appreciated how this year taught us about the power of love, partnership, faith and trust. Our prayers for health, love, prosperity and happiness go to the many friends who have stood by us, prayed for us, sent gifts and offered help. We cannot thank you enough! We are here for you.