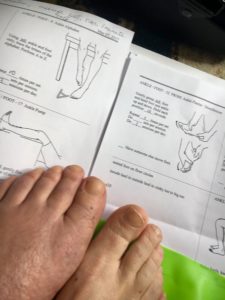 I was so excited to finally begin physical therapy (PT) on March 7. This first appointment was about measuring a starting point. My poor foot, confined to a boot for many weeks, either refused to bend, or twitched weirdly when instructed to do simple moves. While painful to witness, I'm told that the assigned exercises activate the transplanted tendons in my foot and also serve to connect the pathways in my brain. Firing up networks that have been off-line for a long time requires enormous patience.  In my case, PT stands for Patience Therapy.
On March 8, the frustration hit hard. Sitting on the couch, my husband was pestering me about needing a grocery list while I was trying to complete my PT exercises (which I must do 3 times a day). The exercises were not going well at all. Suddenly I found myself sobbing uncontrollably. This feeling of despair was a new one and certainly linked to struggling to move all these swollen tendons that need to learn everything all over again. Poor George gave me a big hug and offered to pick up a healthy bone broth bowl from CoreLife eatery. That proved to be a perfect response. Having a healthy lunch I didn't have to make was one less thing for my brain to worry about. My emotional state for the remainder of the day stayed low. Honestly, I didn't feel like tapping and one more sugarcoated quote about patience on social media might just make me puke.
Things started to get better by the 3rd day of these exercises. My sense of humor returned, I resumed EFT tapping and launched my favorite playlist to help me count all the reps of my PT workout. Writing the alphabet with my toe is still horrible, but somehow tolerable with a good song in the background. No noticeable progress yet, but I am doing the exercises. I'm also sleeping well without that giant boot on my foot, which is awesome, allowing me to do some of my exercises in bed during the night.
I was able to comply with my PT homework for the remainder of the week. When the weekend arrived, I notice far less swelling. Tightness and some muscle soreness are replacing the numbness. Massaging my scars and working the lymphatic points is making a pleasant difference, plus muscle control and range of motion are slowly improving.
Returning to PT today on the 9-week anniversary of surgery, my therapist gave me lots of positive feedback. The range of motion has improved quite a bit and she was pleased with the color and minimal swelling. I've been given some additional exercises to help build strength and to continue challenging my ability to fire up those brain-tendon connections. Once again, these new moves are difficult, with lots of repetitions assigned to train my brain. The best part of today's session covered transition to weight bearing in less than a week. Patience continues to be my lesson and I while I'm not yet out of the woods, I can see the light on the path.
I appreciate your prayers and good thoughts through this phase because I honestly despise most of these PT exercises – lol.