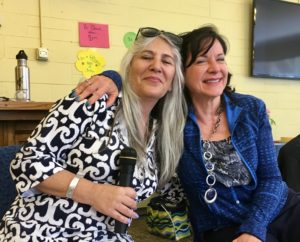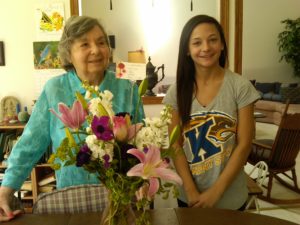 I awakened this morning to the sensation of soft fur and purring as my cat Violet crawled under the covers for our daily cuddle time. She was an orphan kitten, rescued and bottle fed from day one. I'm convinced that this daily ritual is her way of finding a sense of that mother time she missed as a baby. Now that my own babies are grown and living far away, I treasure this special time for mothering and the healing power the purring frequencies bring to my body. We both benefit.
After spending an entire week marinating in Mother messages with Gaisheda Kheawok, the amazing Seneca medicine woman from Canada and spending so many hours in nature, sacred sites and sharing circles with conscious women, I feel new growth emerging from deep within. I find myself marveling at how this all brings me back to my own mother and the incredible job she did connecting me to love and Mother Nature.
During meditations with Gaisheda this week, I found myself transported back in time to many precious memories and experiences including hikes we had at her aunt's dairy farm, gathering shells at the Outer Banks, creating fairy gardens in the woods long before it was trendy, and collecting wild flowers for May baskets to drop off at neighbor's doorsteps. Mom let us tend to orphaned birds and baby bunnies. We often had kittens born at home and we learned the names of every native tree, plant and flower, including poison ivy and the antidote for it – jewelweed. I now realize how most people don't know these things. How lucky I was. Beyond all this, my mother loved me unconditionally and that was the most precious of gifts she gave me. I've mindfully followed my mother's lead and if you asked my children if they received a childhood filled with love and nature's fun, I think they would nod in agreement. My professional life is dedicated to this same kind of mothering, especially for those who are in need of natural physical, emotional or spiritual rejuvenation. Mother Nature lives in the heart of everything I do.
Today my mom is a faded fragment of her former self. She sleeps most of the day and doesn't talk or eat much. She brightens and recognizes me when I enter the room and can answer my questions, so for that I am grateful. There is grief that so much of her has already slipped away, but as this gratitude wells up in my heart, our time together is becoming more precious. I know that nature continues to be a way we can connect and I remain hopeful that our time together will allow a spark of joy to ignite.